Location: 336-km From Jodhpur, Rajasthan
Built In:1727 AD
Significance: Capital City of Rajasthan State
Best Season: October To March
Local Transport: Tourist taxis and RTDC buses are available.
Art emporia and galleries: Art Fair, U-2, Chameliwala Market, Opp. G.P.O., M.I. Road. Maharaja Art Emporium, Hawa Mahal Bazar.
Boutiques: Nayika, Thalia Building, M.I.Road, Crafts Impression, 17 Civil Lines. Information offices: Foreigners Registration Office, Behind Hawa Mahal; Govt. of Rajasthan Tourist Office, Railway Station

JAIPUR - THE PINCK CITY TOURS

The Rose Pink City founded by Maharaja Jai Singh II (1693-1743), is the capital of Rajasthan. It is a major attraction for the first-time visitor. Jaipur is surrounded on all sides
by rugged hills, crowned with forts & enclosed by embattled walls. Houses with latticed windows line the streets with their rose pink colour, lending enchantment to the scene, which is almost magical at sunset.

The Old City (Known as the Pink City) is a great place to wander around. The whole city was painted in Pink colour by Maharaja Man Singh II when Prince of Wales, later Edward VII, visited Jaipur in 1876 AD. Today, every home within the city is obliged by law to maintain its facade. It is a very well planned city laid out in a grid pattern and was designed by a young Bengali engineer and scholar by the name "Vidyadhar Bhattacharya".

Jaipur was and remains the only city in the world, symbolising the nine divisions of the universe, through nine rectangular sectors sub-dividing it. Jaipur is a royal city & this is its most noticeable aspect, small buildings & festivals testify it.
Jaipur & its surroundings are rather like an endless museum. The city also offers an endless variety of crafts. Jewellers here still fashion the beautiful enamel-on-gold pendants, studded on the reverse with precious stones or pearls & turquoise that one sees in miniature paintings. Jaipur's lacquer bangles are famous all over the world. This is a city to be visited.

RAJASTHAN TRAIN TRAVEL
PALACE ON WHEELS
Ever wondered what luxury in the royal times was all about! Welcome to Palace On Wheels, a luxury train that carries with it an ambience of the Rajputana era and an exciting fairytale journey, which takes the visitor to the imperial cities of Rajasthan every single day. The coaches also carry out an image of the Rajput states with beautiful interiors. Last but not the least the "Royal Treat" for the passengers on board include saloons, bar lounges & libraries in every coach as well as restaurant and organized shopping facilites.

FORTS AND PALACES

Amer Palace: The magnificent fort with its huge ramparts & watchtowers, overlooking the Delhi-Jaipur Highway. It is believed to have been the capital of the "Minas", the original inhabitants of Rajasthan.

City Palace: Nakkarkhana-ka-Darwaza, the imposing gateway of the City Palace guarded by stone elephants, is monumental.

Hawa Mahal: A Pandora's box of wonders, the enchanting Hawa Mahal is a multi-layered palace, with a profusion of windows and stone screens.

Jai Garh: Built on a peak, Jai Garh overlooks the palace & city of Amber below. Jal Mahal is Jaipur's lake palace. It is surrounded with water.

Nahargarh Fort: Originally called Sudarshan Garh, it affords a splendid view of Jaipur.

MONUMENTS

Jantar Mantar: The amazing astronomical three-storey-high observatory, of an 18th century Rajasthani king, named Jai Singh.

GARDENS
Sisodia Rani Ka Bagh: Has beautiful gardens, fountains, pools & some magnificent pieces of sculpture.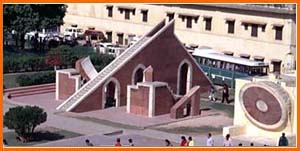 MUSEUMS
Government Central Museum: This is the oldest museum in the state. The buiding, designed by Colonel Sir Swinton Jacob is located in the centre of the sprawling Ram Niwas Bagh, built in 1876 AD. When King Edward VII visited India as the Prince of Wales, it was opened to public in 1886.

EXCURSIONS
TEMPLES
Bairath (86-km on the Shahpura-Alwar Road): An important historical place with the excavated remains of a circular Buddhist temple - unique in Rajasthan and the earliest known temple in India. Bairath also has relics of the Mauryan, Mughal and Rajput periods. A mint constructed by Akbar, a beautiful Mughal garden and a remarkable monument with painted 'chhatris' and wall built by Jahangir, are other attractions.

Galta (2.5-km): Beyond the gardens amidst the low hill guarding the city lies the old pilgrim centre of Galtaji. Temples, pavilions and holy 'kunds' (natural springs and reservoirs) dot the serene green landscape. The small temple of the Sun god, built by Diwan Kriparam on top of the highest peak, is visible form all parts of the city.

LAKES
Ramgarh Lake (
32-km north-east): A huge artificial lake created by constructing a high dam amidst tree covered hills. While the temple of Jamwa Mata and the ruins of the old fort are some of its antiquities, its beautiful landscape makes it an idyllic picnic spot.

PALACE
Samode (40-km north-west): The beautiful Samode Palace, has been rebuilt and renovated and provides a fine example of the Rajput haveli architecture. It is an ideal spot for outings.

CITIES
Sanganer (16-km): Located on the Tonk Road. This small town is entered through the ruins of two 'Tripolias' or triple-gateways. The town has a ruined palace and a group of Jain temples with fine carvings. Entry to the temples is restricted. The town is an important centre for craft, industry and produces some of the finest hand printed textiles from units of block and screen printers. This textile is popular all over the country and abroad. On the Ajmer Road, the ground level fort is still in good shape. It is noted for its hand printed handloom industry using simple techniques.

GARDENS
Vidyadhar's Garden: Nestled in a narrow valley, this beautiful garden was built in honour of Jai Singh's chief architect and town planner.

OTHERS
Gaitor (6.5-km on the road to Amer): There are memorials to the queens in the Maharani-ki-Chhatri complex near the Ramgarh road crossing. The white marble cenotaph of Maharajah Jai Singh II is the most impressive and is decorated with carved peacocks. Next to it is the cenotaph of his son. The island palace-Jal Mahal built by Sawai Madho Singh as a pleasure spot at the centre of the Man Sagar Lake, and the Kanak Vrindavan complex of temples and gardens recently renovated add to its pristine glory.

To the west of this road, in a narrow valley, is the royal cremation ground at Gaitor. The cenotaphs of all Jaipur rulers, with the exception of Sawai Ishwari Singh, who was cremated outside the Jai Niwas Garden, were built at this place. The imposing cenotaph of Sawai Jai Singh stands out for its delicate carvings and beautiful shape.

HOW TO GET THERE
Air: Jaipur has its own airport, and is well connected to all other tourist and business centres.

Rail: An excellent connection to Delhi by Shatabdi Express and the Pink City Express. Other connections to Jaipur are from Bikaner, Jodhpur, Udaipur, Ahemadabad, Secunderabad and Lucknow.

Road: A network of reasonably comfortable tourist buses, run by road corporations of Rajasthan, Haryana and others.

PLACES TO STAY
There are several budget hotels and paying guest accommodations available in Jaipur.

SHOPPING
A major gem and jewellery centre, Jaipur is famous for Kundan work (enamel work on gold). Also there are woollen carpets, cotton rugs, marble statuary, enamelled wares, brass ware, hand-block printed Sanganeri and Bagru Cotton fabrics, exotic blue pottery made from crushed quartz, leather footwear and more